The Royal NFL Wedraft Battle: Til Death Do Us Part
A few days ago I proposed a column idea about English football, hoping to put to paper yet another in depth write-up on my beloved Newcastle United. The idea was signed off, but the first read-through put two different editors into a deep sleep, allowing me to steal plenty of office supplies and gave me time to think of an alternative before they woke up and beat me with an acid-dipped chain like some mutated biker.
My alternative was to break up the elements of England and football, and do a comparative breakdown on the Royal Wedding and the first round of the NFL draft. Brilliant, right? The best part would be that I could watch both within 12 hours of each other, and they would still probably be trending enough to get me some accidental hits on twitter.
So let's battle these two out to see which reins supreme, starting with ...
Royalty
The "Royal" in "Royal Wedding" seems to stand out enough to make this a lay-up for the Brits. Heck, if this were MLB we could at least throw that Kansas City team out there for name reasons, but look closer. Both of the New Orleans Saints' first-round picks (Cameron Jordan and Mark Ingram) are sons of great professional football players, kinda like royalty. Steve Jordan was a six-time Pro Bowl TE and Mark Ingram Sr. even played WR for the Super Bowl-champion New York Giants. Astute sports fans would also notice that those same Giants also took, with the 19th pick, a freak'n
Prince
. Nailed it.
Edge: Wedding, but it was closer than you thought.
Top Talent that Dropped to the Second Round
Da'Quan Bowers is less than two months removed from being the projected No. 1 overall pick. Yeah, his knee is a big question mark, but I was incredible surprised to see him fall into the second round. In weddings, bridesmaids are routinely overlooked in favor of the bride, but I'll tell you who really stood out and opened my 6:30 a.m.-eyes.
Kate Middleton's sister Pippa looked elegant and used a simple dress to turn heads. Granted, this is the first I've ever seen of her and am judging her in the least shallow way possible, but there is no way that she should still be undrafted when Prince Harry's girlfriend is ol' eel-lips here.
Nothing says high-class like a spray tan.
Edge: Royal Wedding takes it again
Fan Approval
Everyone that I saw interviewed on the streets as the parade of bejeweled corpses passed said that they had camped out there for untold days, forcing their children to sit out in the dreary English weather until people who labeled the onlookers "commoners" acknowledged them with a simple fleeting wave. Then, showing the self-esteem that our ancestors rebelled to raise, those interviewed claimed that it was absolutely worth it.
For the NFL Draft, individual picks were met with a mixture of approval and sorrow (keep talking yourself into Christian Ponder, Minnesota), but the one thing fans from all corners of the country and all walks of life could agree upon at the draft: Boo the hell out of Roger Goodell, even though he hasn't gotten paid since the lockout started, and the lockout itself has been deemed illegal.
Edge: Royal Wedding because people are weird
Hats
There are fewer guaranteed laughs in life than and oversized kid in a fine suit stuck with a baseball cap on their giant melon. It is the only time you see a ball cap with a suit unless Mike O'Malley someday plays James Bond. That pales in comparison to the headgear on the stodgy wedding guests.
The wedding did everything they could to up the ante, including a Lady Ga Ga-Pan's Labyrinth love baby on Princess Beatrice of York's forehead.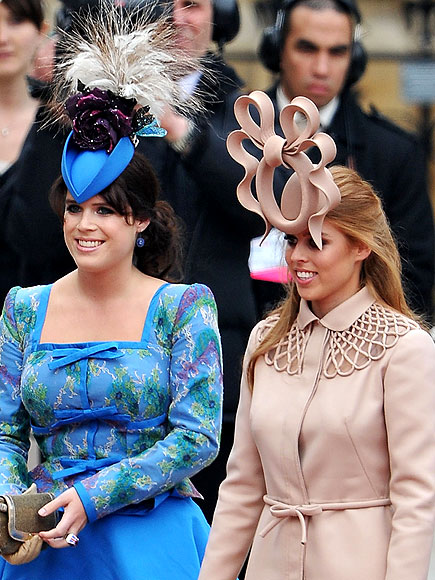 You eat my grapes, I eat your fairy.
Seriously, there were enough crazy hats, horses and a lack of minorities at this wedding for it to be the grandstand at Churchill Downs on Kentucky Derby Day.
Big Edge: Royal Wedding
Overall, there was never much of a chance for the NFL draft. Even in a good non-lockout year with better offensive prospects it is damn-near impossible to compete with 2 billion watchers from around the world. The wedding united all those people through what many think is love, and that at least should make you feel pretty good.
At least we know that next year there will be another draft and another chance to go nuts over our respective teams. The same cannot be said about a royal wedding, unless Harry is really dying to raise some eel babies.